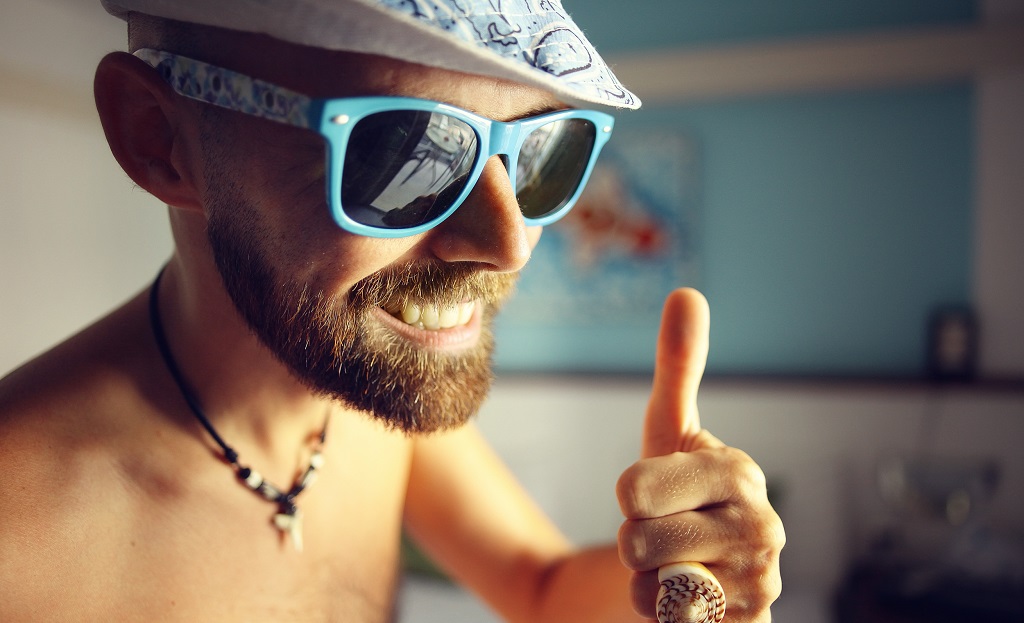 Keeping your beard clean, healthy and hydrated can be a little bit tricky, especially during the three months of summer.
As the leaves turn brown in the scorching sun, chances are your beard will also dry up or become itchy due to the sizzling hot weather.
For these reasons, most bearded buddies opt to shave off to avoid the tribulations of maintaining a beard during summer.
Growing a beard is a soulful investment that must not go down the drain. By employing a handful of grooming and maintenance techniques, you can easily pull off the ultimate bearded look to take you through the summer.
Here are a few tips to help you protect your beard from sea water and the scorching sun.
Drink Plenty of Water
You might not know it, but drinking plenty of water is one of the best ways of keeping your bearded hydrated in the blazing heat.
The hot summer sun can quickly dry out your facial hair causing profound itching and discomfort.
Besides hydrating your body and preventing possible damage to your skin and hair follicles, drinking enough water is the perfect way of moisturizing your beard naturally.
It ensures that your circulatory system is functioning optimally, keeping your beard healthy and hydrated throughout the summer.
Embrace Healthy Habits
To make the most out of your summer holidays and protect your beard, it is advisable that you avoid addictive habits such as drinking alcohol or smoking.
Drinking too much alcohol will not only lead to dehydration, but might also cause sunburns and skin damage.
This will ultimately cause your beard to become dry and brittle, consequently leading to itchiness.
Besides drinking plenty of water, consider healthy habits such as eating fruits and taking light meals regularly.
Clean Your Beard Daily
Cleaning your beard regularly should be your top-most priority this summer. As the temperatures begin to rise your skin and facial hair will become damp and sweaty.
A damp skin will certainly clog the hair follicles leading to the accumulation of dirt on your thicket. Should you start feeling itchy around your chin and face, know it is high time you gave your beard a wash.
Keep your beard clean by using recommended beard shampoos and conditioners. These beard products will help reduce itchiness by removing grime around your facial hair.
Soak Your Beard with Fresh Water
Everybody loves to have a splash in the sea. However, salt water can have adverse effects on your precious beard leading to dry, brittle hair with split ends.
To avoid this situation, always wet your beard with fresh water before and after swimming in the sea. A wet beard will absorb less salt water and chlorine, preventing any damage.
Rinsing your beard with fresh water after swimming will also prevent issues such as discolored hair or dry facial hair.
Invest In a Beard Moisturizers
The heat can strip away all the moisture and natural oils from your facial hair, leaving your beard dehydrated.
Keeping your beard moisturized during the hot weather can work wonders as far as overcoming the tribulations of summer weather are concerned.
For this reason, you should invest in the recommended beard butters and beard oil to keep you refreshed through the blazing summer heat.
Wear a Ball Cap or a Hat
Before stashing away that ball cap or hat, think how it can come in handy in protecting you and your beard from the scorching sun.
Wearing a hat will not only protect you from the UV rays from the sun, but also give you a unique bearded look to boot.
Also, consider applying hair sunscreen spray to prevent the rays from penetrating your beard.
Trim as a Last Resort
Trimming is also an option, but it should only be as a last resort, especially if you have a very long beard. However, this does not mean that you should shave off everything.
Just trim to a reasonable length, for easier grooming. A manageable beard has less irritation and it allows for optimum air flow.
Take Away
There are a lot of myths surrounding wearing a beard during summer.
However, by following our recommended tips, you can rest assured of surviving the summer with the ultimate bearded look. Try these tips today and enjoy never-ending fun in the scorching sun.
Photos from: xload / depositphotos.com, vetkit / depositphotos.com,AgaveStudio / depositphotos.com.